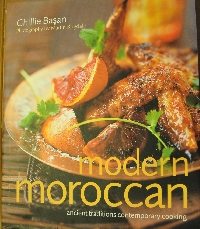 I swap with Swap-bot!
Here are the selected recipes from our challenge cookbook,
Modern Moroccan
by Ghillie Basan.
If you are participating in the swap, this is your chance to
drool
check out the recipes I have chosen (there are so many delicious ones that I had a hard time narrowing it down). If you have your own copy, feel free to pick one I didn't include. I was looking for recipes that I could make, with what I could find in San Francisco. I realize not everyone lives near middle eastern or international groceries, so feel free to adjust the recipes to your dietary needs and/or availability of ingredients. When you write your blog entry, remember to tell us about what you substituted and how it turned out.
I picked this cook book out a number of years ago off the remainder table at Border's (wow, that dates me!) and I was seduced by the beautiful photography (which I didn't include because I was trying to make these recipes easily reproducible on your home printer) and intimidated by some of the exotic ingredients. Now I am a bit older, and more organized and these recipes don't seem nearly as intimidating as before. If some of the writing looks hard to read, don't worry-- once you download the files and print them out, they should be readable. If not, please email me and I will try to get a better copy. To print from a PC, try double clicking to go to the image itself, then right-click and select "save a copy" Now you can print it directly from your computer.